wedding invitations, informal bridal dresses, cheap wedding gowns, designer bridal gowns
wedding veils, jewelry, accessories, favors wedding invitations. . . we have it all!!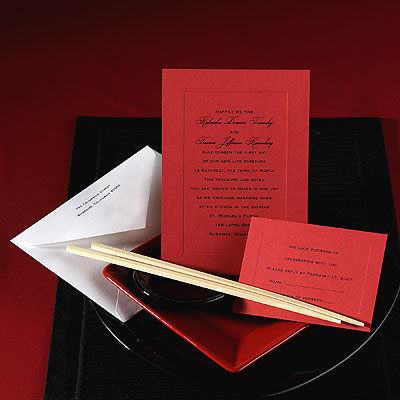 Red Shimmer
Your invitation wording will be printed on a panel card that twinkles with gold. All matching enclosures will be cards and the informal cards will have your names printed at the top. 5 1/8" x 7 1/4" (Card Invitation)
Gold, silver and other light ink colors are not recommended
Price includes blank, double bright white envelopes
Featuring
Black Ink
Combination Lettering CPG/RKS
Verse W24
Wedding Tip #54
Looking for an alternative to "clinking glasses" at your wedding reception? Announce to your guests that in order for you to kiss, they must stand up and tell a story, or share a memory, about either you or your fiance, or about you as a couple. Then get ready to reminisce, to laugh, and to brush away tears. Your guests will be kept entertained and you'll have so many more special memories of your big day to look back upon.