wedding invitations, informal bridal dresses, cheap wedding gowns, designer bridal gowns
wedding veils, jewelry, accessories, favors wedding invitations. . . we have it all!!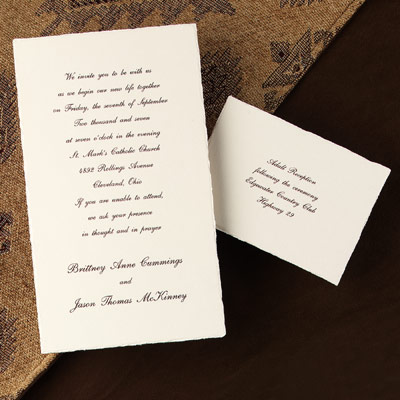 Fine Wedding Stationery…Elegance Through Simplicity - Ecru
This ecru stock features feathered edges for a look of simple elegance. 5" x 8 1/2" (Card Invitation)
Features informal and thank you folders
Features respond and reception cards
Featuring
Mocha Ink
SHA Lettering
Verse W100J
Wedding Tip #58
Purchase a silver serving tray to be placed on a table by the door at your reception. As guests arrive, have them 'sign' the tray using an engraving pen or engraving tool. These engraving products can be purchased at most hardware stores usually for about $15 - $24. In the end, you'll have a precious and beautiful keepsake serving tray covered in the signatures of your wedding guests. Display it in your china cabinet and pull it out for use on those extra special occasions.