wedding invitations, informal bridal dresses, cheap wedding gowns, designer bridal gowns
wedding veils, jewelry, accessories, favors wedding invitations. . . we have it all!!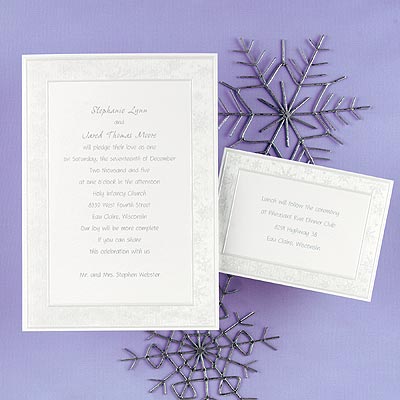 Tis the Season
There in the heart of winter, sparkling snowflakes delicately flicker around your invitation wording on this bright white card. 5 3/8" x 7 3/4" (Card Invitation) Featuring
Grey Ink
Combination Lettering SQU/GRM
Verse W75
Wedding Tip #52
Ask your caterer about the availability of children's plates. This is a practical and sensible way to reduce wedding expenses. Many couples aren't aware that, at a reduced cost, most caterers can create smaller portions for the little people on your guest list, who normally don't eat as much as adults.