wedding invitations, informal bridal dresses, cheap wedding gowns, designer bridal gowns
wedding veils, jewelry, accessories, favors wedding invitations. . . we have it all!!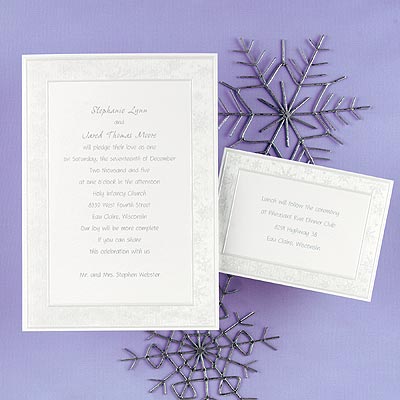 Tis the Season
There in the heart of winter, sparkling snowflakes delicately flicker around your invitation wording on this bright white card. 5 3/8" x 7 3/4" (Card Invitation) Featuring
Grey Ink
Combination Lettering SQU/GRM
Verse W75
Wedding Tip #74
These written agreements (or contracts) should contain the complete agreement to prevent misunderstandings in the future. Be certain that all of the t's are crossed, and that all of the i's are dotted. According to experts, 40% of all wedding-related problems are caused by the Clients who didn't fully understand their contracts!