wedding invitations, informal bridal dresses, cheap wedding gowns, designer bridal gowns
wedding veils, jewelry, accessories, favors wedding invitations. . . we have it all!!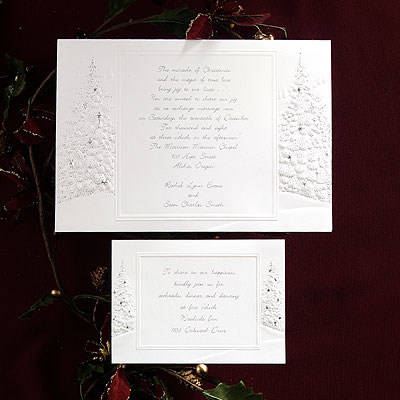 Holiday Love
Nothing complements a winter wonderland wedding like this gorgeous bright white invitation folder featuring glistening Christmas trees on either side of your invitation wording. 5 3/8" x 7 3/4" (Top Fold Invitation) Featuring
Silver Ink
BIC Lettering
Verse W175
Wedding Tip #10
Choose wedding flowers that either can serve more than one function or can be kept as a remembrance of the occasion. Standing baskets filled with sprays of fresh or silk flowers that decorate the ceremony can later be moved to the reception site, where they look elegant placed behind the head table or at the entrance to the room.