wedding invitations, informal bridal dresses, cheap wedding gowns, designer bridal gowns
wedding veils, jewelry, accessories, favors wedding invitations. . . we have it all!!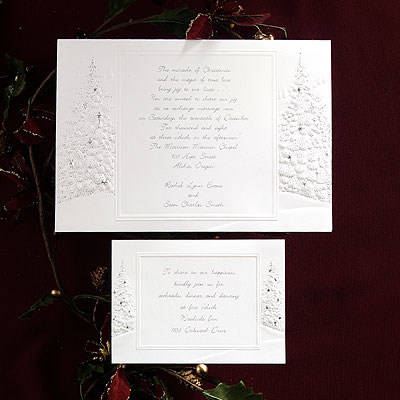 Holiday Love
Nothing complements a winter wonderland wedding like this gorgeous bright white invitation folder featuring glistening Christmas trees on either side of your invitation wording. 5 3/8" x 7 3/4" (Top Fold Invitation) Featuring
Silver Ink
BIC Lettering
Verse W175
Wedding Tip #102
Before selecting a professional videographer, check references from friends and your photographer. It is important that your professional photographer and videographer are able to work together in harmony. Also check with the ceremony location in advance to learn if there are any video restrictions.