wedding invitations, informal bridal dresses, cheap wedding gowns, designer bridal gowns
wedding veils, jewelry, accessories, favors wedding invitations. . . we have it all!!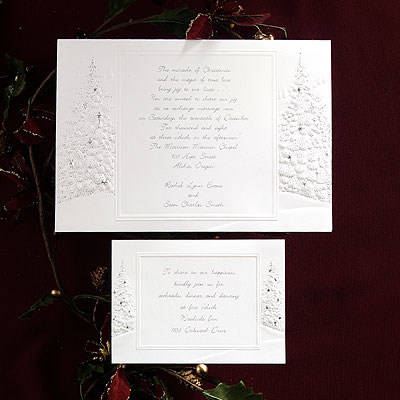 Holiday Love
Nothing complements a winter wonderland wedding like this gorgeous bright white invitation folder featuring glistening Christmas trees on either side of your invitation wording. 5 3/8" x 7 3/4" (Top Fold Invitation) Featuring
Silver Ink
BIC Lettering
Verse W175
Wedding Tip #18
Your wedding day is going to be very hectic. Allow yourself at least two hours to get ready before your wedding is scheduled to begin. If you are planning to have photographs taken before your ceremony, start getting ready two hours before your session is scheduled to begin. These last few hours are stressful enough, don't add to the stress by running late. Take your time when getting ready, and enjoy the company of those around you.