wedding invitations, informal bridal dresses, cheap wedding gowns, designer bridal gowns
wedding veils, jewelry, accessories, favors wedding invitations. . . we have it all!!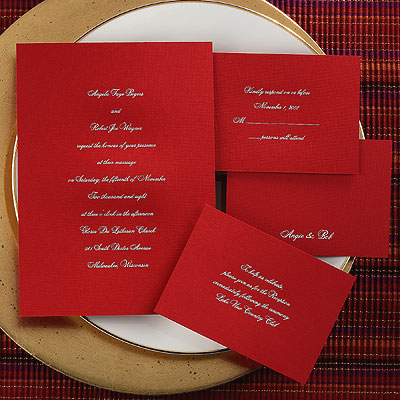 Unforgettable - Red
What an unforgettable statement you will make with this bright red invitation. The invitation card features matching enclosures and bright white, double, blank envelopes. Elegant white flat ink will surely highlight your invitation wording. This ensemble features an informal/note, respond and reception enclosure cards. This red invitation is the ultimate in distinctive wedding stationery. 5 1/2" x 7 3/4" (Card Invitation) Featuring
Invitations are only available with White Flat Ink
Respond envelope address and outer envelopes will be printed in Black Ink only
All enclosures will be cards
Invitations White Flat Ink
SIT Lettering
Verse W17
Wedding Tip #124
At informal weddings, dresses are often street length if the Bride wears floor length. They may also be the same length as the Bride's dress. A hat or small headpiece with or without a short veil to match the Bride may also be included. Small Bridesmaid bouquets are quite popular.