wedding invitations, informal bridal dresses, cheap wedding gowns, designer bridal gowns
wedding veils, jewelry, accessories, favors wedding invitations. . . we have it all!!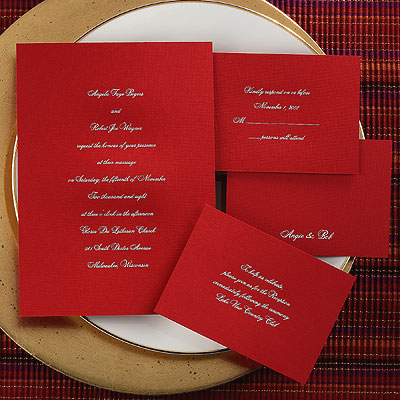 Unforgettable - Red
What an unforgettable statement you will make with this bright red invitation. The invitation card features matching enclosures and bright white, double, blank envelopes. Elegant white flat ink will surely highlight your invitation wording. This ensemble features an informal/note, respond and reception enclosure cards. This red invitation is the ultimate in distinctive wedding stationery. 5 1/2" x 7 3/4" (Card Invitation) Featuring
Invitations are only available with White Flat Ink
Respond envelope address and outer envelopes will be printed in Black Ink only
All enclosures will be cards
Invitations White Flat Ink
SIT Lettering
Verse W17
Wedding Tip #137
You can take a few extra steps to make regular lipstick more longwearing. Before applying lip color, smooth a bit of foundation over your lips---this will make your lipstick go on more evenly as well as help it stay on longer. Outline your lips with a lipliner, then fill in lips with the liner as well. Using a lip brush, apply one coat of lip color; blot with a tissue. Apply a second coat of lip color. If you'd like, you can top your lipstick with a product such as English Idea's LipLast, which seals in lipcolor and sets it for longer wear.